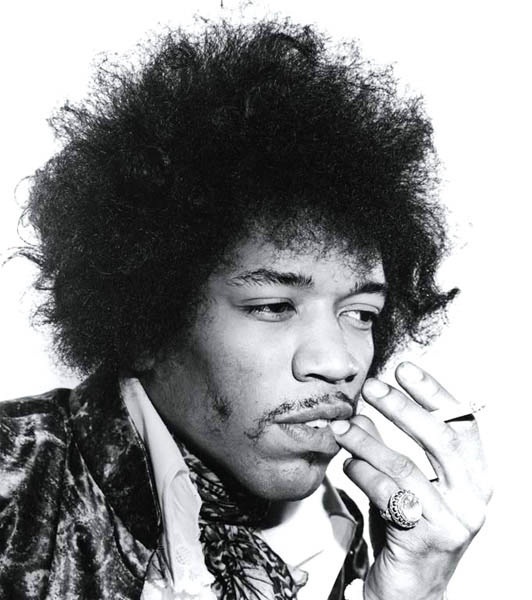 James Marshall "Jimi" Hendrix was an American musician and singer-songwriter. He is widely considered to be the greatest electric guitarist in music history and one of the most influential musicians of ...
Born

November 27, 1942, Seattle

Died

September 18, 1970, London
James Marshall "Jimi" Hendrix (born Johnny Allen Hendrix; November 27, 1942 - September 18, 1970) was an American musician and singer-songwriter. He is widely considered to be the greatest electric guitarist in music history and one of the most influential musicians of his era despite his mainstream exposure being limited to four years. He achieved fame in the United States following his 1967 performance at the Monterey Pop Festival after initial success in Europe with his group The Jimi Hendrix Experience. Later, he headlined the iconic 1969 Woodstock Festival and the 1970 Isle of Wight Festival. He favored raw overdriven amplifiers with high gain and treble and was instrumental in developing the previously undesirable technique of guitar amplifier feedback.
Hendrix helped to popularize use of the wah-wah pedal in mainstream rock, which he often used to deliver tonal exaggerations in his solos, particularly with high bends, complex guitar playing, and use of legato. Hendrix was a pioneer in experimentation with stereophonic phasing effects in rock music recordings. He was influenced by electric blues artists such as B.B. King, Muddy Waters, Howlin' Wolf, Albert King and Elmore James, surf rock guitarist Dick Dale,[20] rhythm and blues and soul guitarists Curtis Mayfield and Steve Cropper, and the jazz guitarist Wes Montgomery. Hendrix began dressing and wearing a moustache like Little Richard when he performed and recorded in his band from March 1, 1964, through to the spring of 1965. In 1966, he stated,
"I want to do with my guitar what Little Richard does with his voice".
Early life
Ancestry
Hendrix was of mixed African American, European, and Cherokee ancestry. His paternal great-great grandmother was a Cherokee from Georgia. Bertran Philander Ross Hendrix, his paternal grandfather, a wealthy white grain dealer from Urbana, Ohio, was of Irish, German, and English descent. Out of wedlock, Bertran P. Ross Hendrix and Zenora "Nora" Moore, who "may have worked in the grain mill owned by Bertram" and been a slave, had a son, Al Hendrix (Jimi Hendrix's father) and three other children. Mulatto son of slaves Preston Jeter, Hendrix's maternal grandfather, left Richmond, Virginia in his early manhood after he witnessed a man being lynched. He began a new life in Seattle and, in 1915, he married Clarice Lawson of Arkansas. "Half his age," Lawson was mixed Cherokee and African-American.
Childhood
Hendrix was born Johnny Allen Hendrix on November 27, 1942 in Seattle, Washington, the first of five children to James Allen "Al" Hendrix (June 10, 1919, Vancouver, British Columbia - April 17, 2002, Renton, Washington) and Lucille Jeter (October 12, 1925, Seattle, Washington - February 2, 1958, Renton, Washington).
His parents met at a dance in Seattle in 1941 when Lucille Jeter was 16. When she married Al Hendrix on March 31, 1942, she was pregnant. Al had been drafted into the United States Army due to World War II and was shipped out three days later. He completed his basic training at Fort Sill, Oklahoma but was stationed in Alabama when his son was born. The commanding officer thought he would go AWOL to Seattle to see his new son and had him locked up as a preventative measure. It was in the stockade that Al Hendrix received the telegram announcing his son's birth. He spent most of the war in the South Pacific Theater in Fiji. During his three year absence, Lucille struggled to raise her infant son, neglecting him in favour of nightlife. Hendrix was mostly cared for by family members and friends during this period, notably Lucille's sisters,
"Delores Hall and Ernestine Benson, and her friend Dorothy Harding."